Drexan's Designer+ software can be viewed in a single table and it's compatible with all modern versions of Windows.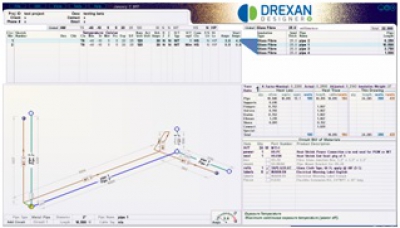 Single table view allows for:
Simple fine-tuning.
Heat loss calculations and electrical circuit analysis to occur in real time as individual pipe data is entered, with circuit specific data highlighted on mouseover and selection.
Cable and component type can be selected automatically to ensure that all designs meet code.
Built in electrical reports and BOMs export to pdf to ensure that Drexan Designer works seamlessly within any organization to meet your trace heating system designs.
Drexan Designer+ is available free of charge to registered customers. To download and register a free copy of Drexan Designer+, complete this Software Download Form.
Discover why so many companies choose Drexan's trace heating systems due to their reliability and cost. For specific details, go to Trace Heating Solutions to obtain application and industry specific product details.