Municipalities spend a lot of time and money guaranteeing that we have clean water to drink and use, while treating our waste water to prevent degradation of our environment. While the general application is freeze protection, many chemicals used in water and waste water treatment are aggressive and require process temperature maintenance.
Using electric trace heating cables are ideal for waste water treatment applications for accurate temperature maintenance. Choosing the best trace heating cable is extremely important to ensure long service life and reliable performance – especially on plastic piping and tanks where temperature control is critical.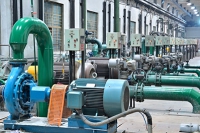 Heat tracing cables can serve the most demanding environments including hazardous and non-hazardous areas as well as where corrosive exposure may be of concern.
When choosing a trace heating cable solution for waste water applications, ensure they are certified to CSA (CUS) standards for use throughout North America, ATEX for Europe and are suitable for both metal and non-metal pipes, tanks and vessels.
The integrity of a trace heating system depends upon how accurately the cable is selected and installed. An improperly installed trace heating system can result in cable failure and possible physical injury.
The cost of a trace heating system involves two key factors:
Total installed costs – materials plus labour
Ongoing operating costs – energy and maintenance
A properly designed trace heating system minimizes the costs in both areas. An improperly designed trace heating system can result in higher than necessary wattages and a higher number of circuits being specified which translates into higher installed costs and energy consumption.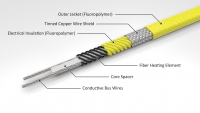 PipeGuard Hot
Drexan Energy Systems recommends the use of PipeGuard Hot , PipeGuard Warm and MultiTrace self-regulating heating cables in waste water treatment applications. For high temperature process maintenance applications, PipeGuard Hot which has a maintain temperature of up to 250°F (121°C) and withstand temperatures up to 482°F (250°C) is often recommended. Certified to all applicable CSA (CUS) and ATEX standards.
Fiber-wound core construction provides longer life expectancy and accurate wattage output compared to monolithic cored heaters.
Extremely rugged internal configuration makes for trouble-free installation and operation and quick and simple cable stripping and termination.
Suitable for metallic pipes, tanks and vessels.
Available as standard lengths of 500ft or 1000ft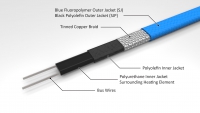 PipeGuard Warm
For Freeze protection Drexan PipeGuard Warm with fluoropolymer outer jacket (SJ) is often recommended and is certified to maintain temperatures up to 150°F (65°C) and withstand temperatures up to 185 °F (85°C) PipeGuard Warm with polyolefin outer jacket (SJP) has the same maintain and withstand temperatures and is often recommended for aqueous/non-corrosive exposure environment applications.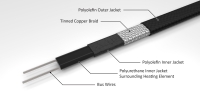 Multitrace
Drexan's MultiTrace is also certified for maintaining temperatures up to 150 °F and withstand temperatures up to 185 °F (85°C) and is equivalent to PipeGuard Warm polyolefin outer jacket (SJP) so is also recommended for the same environments.
All of these cables ship in standard lengths of 500 or 1,000 feet.
Are you searching for waste water process temperature maintenance cables? We can help. Download our Design Worksheet to determine which trace heating system will work best for your unique needs.