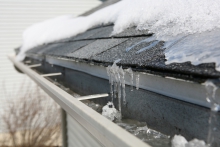 Get Protection now! – Prevent icicles and ice dams on your roof with Drexan MultiTrace Heating Cables. These Industrial-Quality cables can be installed by your professional roofing contractor or you can purchase pre-terminated GFCI-Protected MultiTrace cables from your Drexan distributor and do it yourself.
Download your free Roof & Gutter Design Guide.
You can also protect waterlines from bursting in the freezing temperatures with pre-terminated MultiTrace or Hot Tape heating cables. Available in 5,10,15,25,50,75 and 100 foot lengths. All of these cable sets come with inline circuit protection.
Download data sheets on all Drexan products from our website.
You can purchase Drexan Heating Cables at authorized distributors. To find a dealer near you or for more information call Drexan at 1-800-663-6873